Fine Art Prints
I am pleased to offer high quality photographic prints of the images on this website. There are several print and display options available, as described in more detail below. Prints can be ordered directly from each photo's page in the individual galleries and collections of this site. Simply click on an image, and then beneath the image, select your preferred print type, and using the drop-down menu, select the desired size. Then click on "Add to Cart," and "checkout" when ready. If you have questions, or would rather discuss by phone before purchasing, please contact me using the contact form here, or by clicking on the contact link at the bottom of each page.
Prints are available in a variety of sizes, ranging from 12" x 18" up to 60" wide. The size options for a given image depend on both the aspect ratio of that image (e.g., whether it is a standard 2x3 ratio, like a typical 35mm image, or more of a panoramic format), the capability of the camera at the time the image was made (sensor technology has improved tremendously in the last decade!), and other circumstances related to the image capture itself. I will only print images that are consistent with the high levels of quality and image detail that I expect, and will let you know if, as a result, certain sizes for certain images may not be recommended.
Fine Art Prints. These prints are museum-quality, made with archival inks, and printed on fine art photographic paper. They show amazing detail. Prints are available unframed, or in custom-made black wood frames.
Acrylic Prints. Images are also available in acrylic face-mounted prints. This is another popular archival display option, and a modern-looking alternative to traditional framing.
Black & White Prints. Black & white images are also available unframed, framed, or face-mounted to acrylic. These beautiful museum quality prints are prepared with a special combination of modern laser technology (in place of using an enlarger in the darkroom) and wet chemical processing similar to the traditional darkroom. They are not the typical ink jet prints, and you can see the difference. These prints come closest to the look and feel of traditional black & white prints from the pre-digital era.

Let's review each of these options in a little more detail:



FINE ART COLOR PRINTS
Print Only

Traditional fine art prints are created using a premium fine art photographic paper made by Canson Infinity. Canson Platine Fibre Rag is a luster paper with a semi-gloss surface that helps to preserve details and display vibrant colors. It is my favorite paper for a broad variety of color images. The prints are made on professional Canon printers, using a twelve-color Lucia Pro pigmented ink set that covers a wide color gamut and ensures the prints will last for many, many years (assuming they are well cared for and displayed away from direct sunlight).

The print-only option affords you the most flexibility in terms of mounting and framing and is also the most affordable. The prints are not mounted or framed. This gives you the option of bringing your prints to your local frame shop to have them matted and framed exactly as you would like, best matching your personal style and surrounding decor.

Prints are typically shipped via UPS Ground shipping, with a tracking number. Prints up to 20" x 30" are shipped flat; larger prints arrive rolled loosely in a heavy-duty art tube for maximum protection. They usually arrive within two weeks from the time of order. The cost of shipping within the United States is included in the overall price of the print -- there is no additional charge.

Framed Print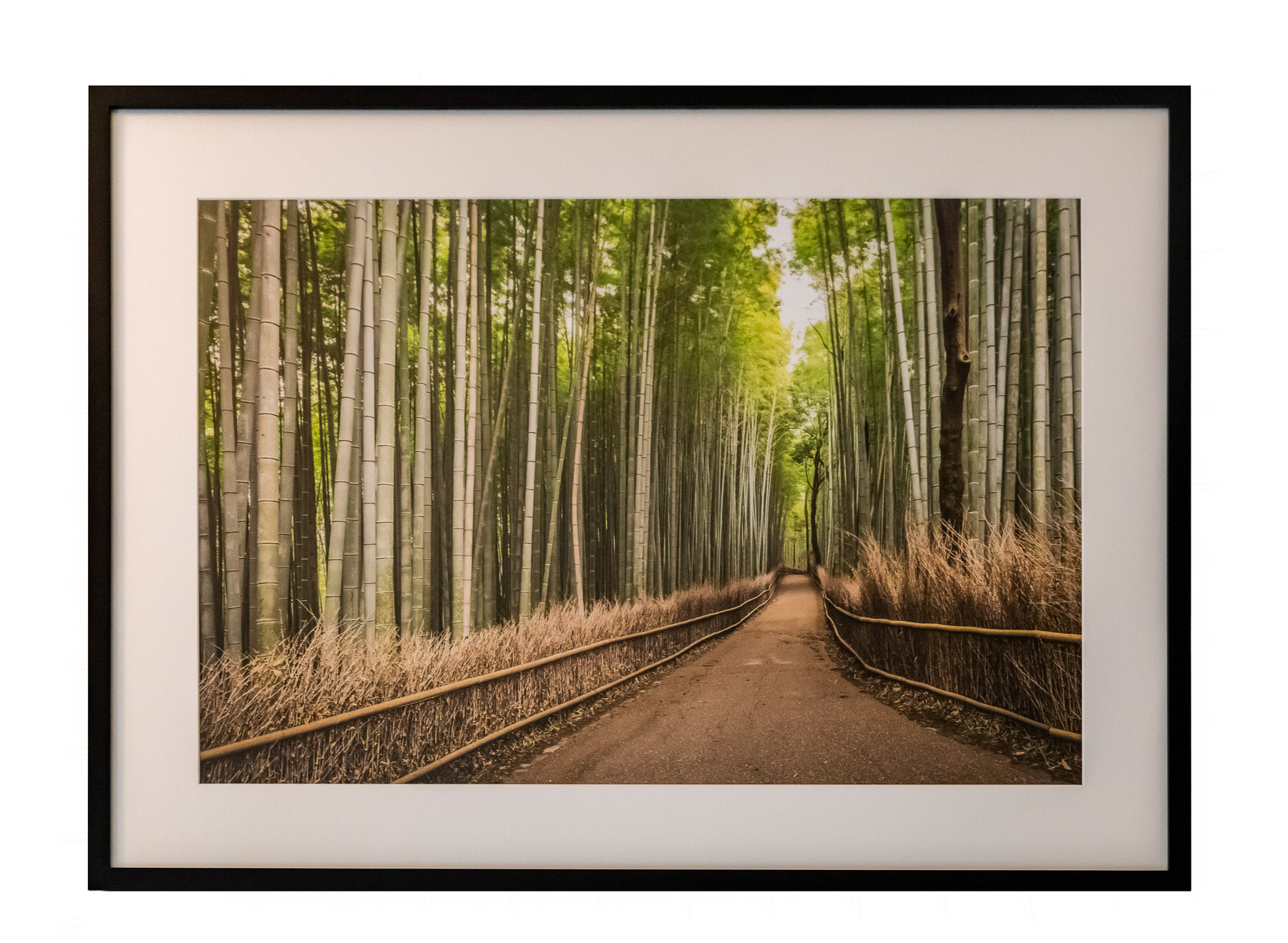 Framed prints are printed as described above, but are then framed with an archival white 1/4" mat in a custom-made 3/4 inch black maple wood frame. The sizes indicated for each print are the measurements for the print itself, and do not include a white border, or the size of the matting and frame. For a 20" x 30" print, for example, this would translate to a 27" x 37" framed piece of art. The framed print is ready to hang.
Framed prints are also shipped via UPS Ground shipping within the United States, and you will be provided with a tracking number. In general, delivery is about three weeks from the time of the initial order. Shipping is free -- it is included in the price of the framed print.


ACRYLIC, FACE-MOUNTED PRINTS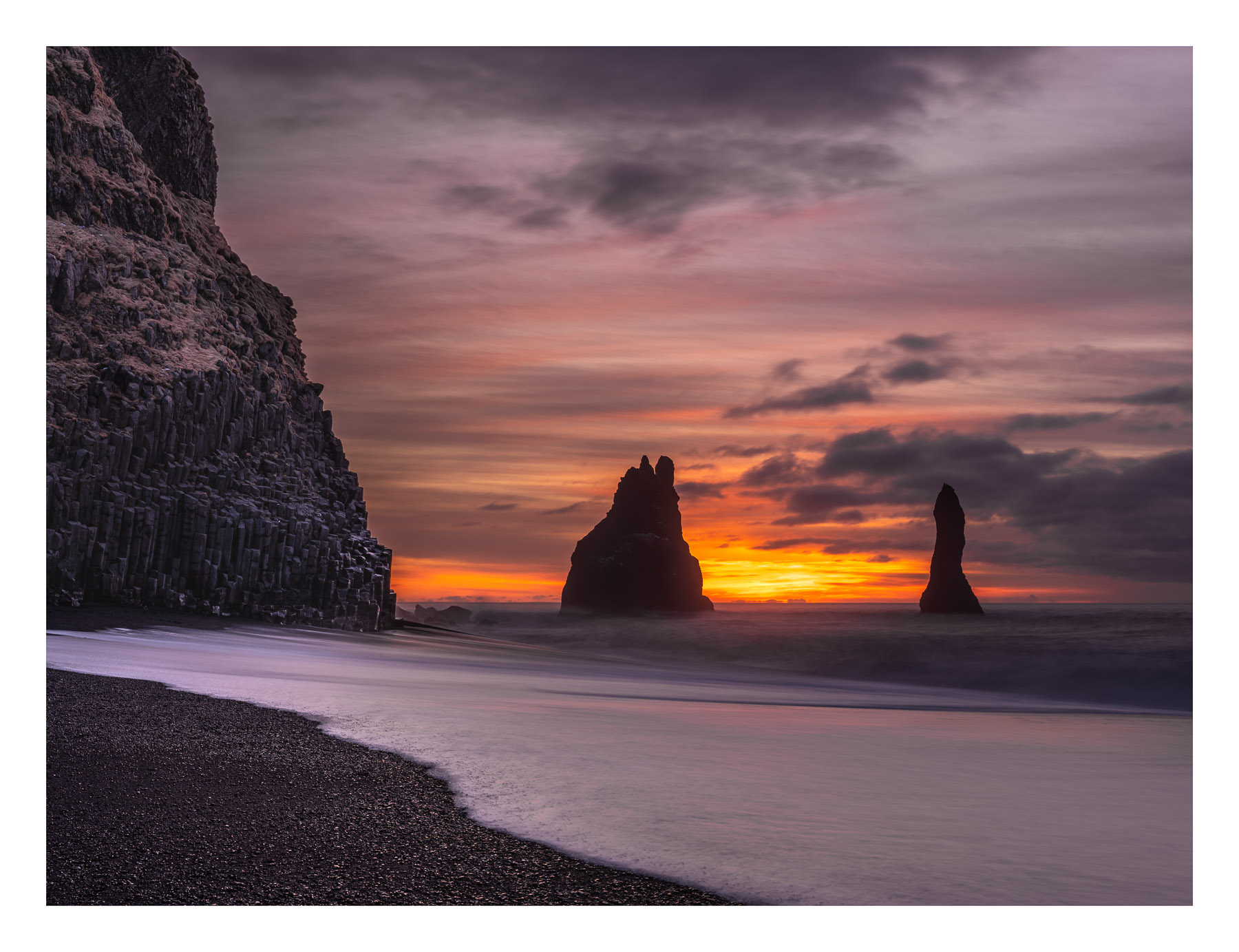 These are prints on high-gloss photographic paper that are then face-mounted to a special type of acrylic glass. While I have historically used traditional framed and matted prints to display my own work at home, I am increasingly opting for acrylic mounting -- and that is the option most preferred by many customers. The print is sandwiched in between the acrylic, and a back substrate. This method of printing yields amazing resolution, clarity, and vibrancy to an image. It is a very clean, modern look, and is generally less expensive than wood-framed prints, especially for larger print sizes.


Acrylic prints are delivered ready to hang with a recessed back-mounted frame that floats the print one inch off the wall for a clean contemporary look. You'll love the final result!

Acrylic prints are wrapped securely and shipped via UPS Ground shipping within the United States, and you will be provided with a tracking number. In general, delivery is about three weeks from the time of the initial order. There is no additional cost for shipping within the United States.


BLACK & WHITE SILVER GELATIN PRINTS
Black & white images are printed by Digital Silver Imaging, a fine art photographic printer in Massachusetts. The DSI Digital Silver Prints® are real silver gelatin (silver halide), black & white prints, on a baryta fiber based paper, or a premium RC based paper. DSI Digital Silver Prints® are made from the fusion of modern digital technology and traditional exposure/chemical printing. The printers use a photographic laser printer to expose light sensitive Ilford silver gelatin paper; the exposed paper is then processed in traditional liquid photo chemistry. These prints have a great neutral image tone, without color cast, and proven archival superiority. They yield beautiful rich tones and shadow detail, and in my experience this process is the best available in the market today for black & white images.

Although the printing process starts with a digital image, it is quite different from the ink jet printing that is typically used today -- indeed, it is best to think about this process as the modern equivalent of the traditional darkroom process, but using a digital negative. The process itself involves more time and effort than ink jet printing and is therefore more expensive and takes slightly more time. Nonetheless, you should still have the finished product within 2-3 weeks of placing your order.


OPEN EDITION PRINTS AND
CERTIFICATE OF AUTHENTICITY (COA)
At the moment, all prints are offered as "Open Edition" prints that are available to collectors in an unlimited number. As you probably know, some artists also offer Limited Edition artwork that is hand-signed and numbered by the photographer (e.g., 4 of 12, signifying that the total quantity of prints of that image to be produced will be limited to 12).
Since I have only recently decided to make prints available for purchase, and because I would like to keep them more affordable (limited edition prints often command a premium), all of my prints are Open Edition. I am, however, very proud of each image I produce, and want to ensure that each print is made to the highest quality possible today, with the appropriate attention to detail. As a result, each print will be accompanied by a custom label, signed and titled by me, and affixed to the back of the print (or the backing, in the case of framed or acrylic prints).

In addition, every purchased Open Edition print will be accompanied by a Certificate of Authenticity (CoA) which includes the date the photo was created, location of the photo, a serialized holographic authenticity label, and my signature. On the back of the print is a matching holographic authenticity label. These items together certify that your photographic print is an authentic work. Certificates of Authenticity are printed on Hahnemuhle Photo Rag, Deckle Edge Paper.



PAYMENT VIA PAYPAL
All payments on this website are processed automatically via PayPal. PayPal is one of the world's best known ways to pay and get paid. PayPal uses the latest in data encryption and anti-fraud technology to keep your information secure, reducing the risk of online fraud. You can use any credit or debit card to pay via PayPal and can make payments even if you do not have an account.


FREE SHIPPING IN THE UNITED STATES
As noted above, all print orders are currently shipped free within the United States. Typical fulfillment times are 2-4 weeks, but can vary depending on the time of year and my travel and shooting schedule.


SATISFACTION GUARANTEE
I am confident that you will be pleased with the quality of your fine art prints. Each is produced with the finest printers, papers and inks available today, with great attention to detail, not only in the making of the image itself, but in its printing and presentation. If you are not completely satisfied with your purchase, please contact me as soon as possible so that we can discuss any concerns you may have.
Please note:
Jim Waterbury Photography will not reimburse the outgoing or return shipping charges unless the return is due to a defect in quality.
Refunds will not be given for prints damaged due to neglectful storage or using improper cleaning methods. The prints should always be stored or displayed in a dry room out of direct sunlight.
TO PLACE AN ORDER
To purchase a fine art print of any photograph in my collections, simply browse the galleries. Each gallery has a set of images, including information about each photograph, and the images can be viewed with captions, as a grid, or full screen. Prints can be ordered directly from each photo's page in the individual galleries and collections. Simply click on an image, and then beneath the image, select your preferred print type, and using the drop-down menu, select the desired size. Then click on "Add to Cart," and "checkout" when ready. If you have a question, or would rather discuss by phone before purchasing, please contact me using the link on each page. Also please let me know if you would prefer a custom print size, or different presentation options. I'm happy to work with you to create the perfect print for your needs.

Privacy Policy
All prints, products, and digital files provided by Jim Waterbury Photography are protected under copyright of Jim Waterbury Photography. This copyright is non-transferrable. Purchase of prints, products, or digital files does not signify a transfer of ownership of any copyrights. Please also adhere to the U.S. Copyright Act, in your usage of photographic prints and products, outlined below:
The U.S. Copyright Act (Title 17, United States Code) is designed to protect photographers and other artists by granting them the exclusive right to distribute, copy, edit and publish their photography by license, transfer, or sale. The Copyright Act prohibits anyone from copying, scanning, editing or sharing photographic prints, images, or media without the written permission of the photographer. Violation of the Copyright Act can incur both civil and criminal penalties.